By Darren Johnson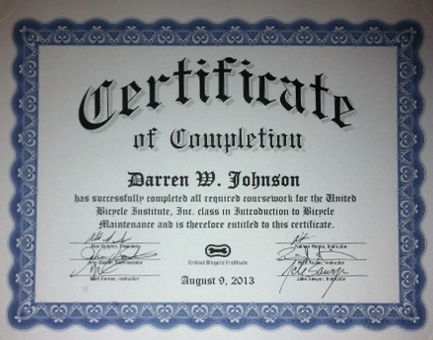 I've been here at United Bicycle Institute in Ashland, Oregon for a week now.  Ashland is a cyclist's dream for several reasons.  Ashland is a very cyclist friendly town, with bountiful bike parking, and bike lanes everywhere!  The mountain biking, I'm told, is superb, and tomorrow I'll find out for myself.  I'll be riding some local trails with one of the suppliers that has helped Fulton Cycle Works grow and be prosperous!  I'll make sure and report on that later.  I don't think there is a flat road anywhere in this town!  This can be a blessing or a curse, depending on the type of cyclist you are.  The school is really amazing. I'll admit the first week at school has been rather remedial, but I've been picking up many tips and tricks that will make sure the new Fulton Cycle Works has the best service (albeit small) department in town!  I won't go into specific details, but rest assured, many improvements to how we service and tune bicycles will be realized, bringing you more value and complete bicycle care!
The next two weeks are dedicated to professional shop mechanics, and I'm excited to see just how much they can expand on certain topics.  (in week one, we spent an entire day on derailleurs!)  Wish me luck!  After that, I'll attend a week of class dedicated to wheel building, and suspension. I'm excited to start offering custom built wheels as part of the new Fulton Cycle Works!
All in all, we are extremely excited to be moving into our brand new and very upscale home at the Iron Bird Lofts!  We will bring more products, more services, and more knowledge with us, so please come check out the new location just as soon as we open!
Fulton Cycle Works
1901 Fulton Street #111
Fresno, Ca. 93721
(559) 917-3678
www.fultoncycleworks.com